Lotus Cars Cycle Race League 2023
Held under the Technical Regulations of British Cycling
Seven Tuesday evenings of racing! Four races per evening!
View all events and see the list of entrants
Evening Race Programme
Time

Category

Duration

Route

Day licence allowed

Transponder required

Fee

Race 1

18:45

Youth C/D & E (U12/U10/U8)

15 Minutes

South Circuit 0.8 miles

Y

Yes

£8

Race 2

18:46

Youth A & B (U16/U14) + Women Go Race

25 Minutes

North Circuit of 1.2 miles

Y

Yes

£10

Race 3

19:30

Men - E/1/2/3/4/J

+ Women – E/1/2/3/4/J

60 Minutes

Full Circuit of 2.2 miles

N

Yes

£18

Race 4

19:31

3rd Cat Over 50

+ 4th Cat Men

50 Minutes

Full Circuit of 2.2 miles

N

Yes

£18
Don't forget, No Licence, No Crash Hat = No Race
Day Race Licences issued to Youth Riders & Women's Go Race ONLY. No Exception. This means that everyone else (junior and senior riders) MUST have a full race licence, ie, a Silver or Gold membership plus the race licence; see the BC page for more information.
Parental consent form (Word Doc or PDF) required for all day licence riders every time they compete. An additional fee of £1.50 is charged for a Youth Day Licence & £5 for women's Go Race if not a BC Race Member. (Many clubs offer free youth membership and BC race licence is free, so if you are not in a club... )
Disc Brakes are permitted, Tri-bars, arm extensions and pads are not.
Rider Safety and Risk Assessment
British Cycling Risk Assessment demands a BC Race Official follows each race in a car equipped with a PA system.
A maximum of 2 races can be held on the full circuit at any one time with a maximum of 140 riders in total. A max of 100 riders may compete in 1 of the races.
Races on the full circuit must be kept apart. This is usually achieved by the E1234 Race doing a lap of the North Circuit only if they are closing in on the 3rd & 4th Cat Race. A whistle is blown to warn riders as they approach the start of the North Circuit & again when the turn has to be made. This has worked reasonably well but will be changed if the circumstances demand it. The Commissaire will explain at the briefing so please listen!
Rider Selection and Points
Selection for the senior races will follow BC guidelines with some additions.
All women will be accepted. If some women wish to ride the Mens E/1/2/3/4 or the 3rd & 4th Cat Race they must enter this race and compete with the men on an equal footing.
For the Mens E/1/2/3/4/J selection will be in the order of category. 4th Cats who specifically wish to ride this race must enter it. Normally there are circa 45 E/1/2/3 entrants.
For the Mens 3rd Cat Over 50 + 4th Cat selection will be on a 1st come 1st served basis.
If either race is oversubscribed any spaces in the other race will be automatically filled where possible. However we want to maximise participation so if after entering you know you will not be able to compete, please let us know by midday Monday OR you will be put on the end of the list in subsequent weeks!
There can be NO SWAPPING of races on the night.
BC Licence Points awarded for all races but only 1 set for each Senior Race.
LCCRL Points will be awarded as follows:- All Youth Races, 4th Cat Only + 3rds & 4th Cats over 50 + E/1/2/3 (3rds under 40) + 3rd Over 40 + Women + Women Go Race
Race Direction
Youth C/D/E will be anti-clockwise on the South Circuit with the finish on the far side of the circuit (as per 2018)
Youth A&B + Women Go Race will be clockwise on the North Circuit with the finish along the Pit Armco Fence (Possibly not the same as the Senior Races finish)
Seniors will race clockwise with the finishing point by the gate in the Pit Wall approx. midway between the North & South Circuits
Riders for all races will line up and start from the south end of the pit lane.
The MyLaps Timing/Judging System
Used for all races except Youth CDE and possibly for Youth AB + Women Go Race.
This will ensure that we can place every rider in every race but to do so you must enter via this website by the Saturday prior so that we can 'set up' the races on MyLaps and assign Transponders Numbers to those who hire.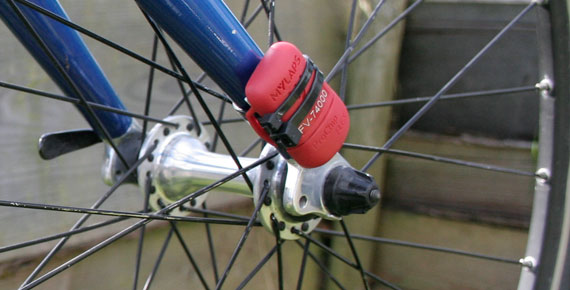 The MyLaps Pro Chip FLEX Transponder must be securely attached low down on the front forks with a cable tie.
Transponders can be purchased via hs sports or hired on the night for £3.00.
Hired Transponders must be returned the same evening otherwise you will be fined as per line 15 on page 112 of the BC Handbook
Cost via HS Sports is currently £36.00 + £9.50 Post for a 1 year subscription with options for 2 & 5 years, Subsequent years subscription is 25 Euro. Transponders should last 5 years.
If you wish to purchase please allow 4 weeks before your first Race that will use MyLaps.
If you have purchased your own transponder enter the number EXACTLY as printed when you enter - ie, with upper case & hyphen. Please ensure you have sufficient battery life and that your subscription is still valid. Do not 'turn up' with an activated transponder of which we have no knowledge. MyLaps will pick up the number but it will not tell us who you are!
For more information, please read our page on Chip Timing.
How to Enter
Through this website by midnight Saturday, 3 days prior to the race. If competitor numbers exceed the maximum those who have not started, a previous race will be denied entry. A 'Signing On' Sheet will be forwarded to each competitor by the Monday each week showing your assigned Transponder Number.
Entry to Lotus Test Track – Potash Lane, Hethel, NR14 8EZ
Here is the location on Google Maps.
You will be allowed to enter the site between 18:00 and 19:15. A completed Lotus Cycle Event Track Indemnity Form must be handed in by every competitor, spectator & official on your first visit. Thereafter you will be checked against a list.
Facilities at Lotus
Due to building work at Lotus our usual park and Signing On facility will not be available. New Parking area, toilets and 'Signing On' TBA
Please do not change in view of Group Lotus PLC employees..
Please obey the 15mph Speed Limit
Refreshments will again be provided by Simon of Risi Bici Café Deli
Maglia Rosso will provide Race Commentary
First Aid: St John Ambulance
Please note that unofficial photography is not allowed! Adam Gooch Media will be our official photographer, and photos will be available at the Adam Gooch Media Facebook page.
On the Night
At 'Sign On' pay race entry fee, leave Race Licence, collect Body Number, sign the sheet and write your body number. Correct money will be appreciated and will speed up 'Sign On'.
Add another £3 if you need to HIRE a Transponder. Check you have the number allocated to you. Fit securely low down on Front Forks with Cable Tie provided.
Return all Body Numbers and HIRED Transponders before you go home and collect your Race Licence
Hired Transponders must be returned the same evening otherwise you will be fined as per line 15 on page 112 of the BC Handbook. i.e Cost of Transponder, £36 + £25 by BC.
Results
Will be posted on this website and the MyLaps website, and forwarded to press, BC and individual riders ASAP via Email usually late that same evening.
Prizes
Prizes are only awarded after the league has finished and if there are sufficient funds available after all bills have been paid. We averaged 81 senior riders in 2018 but we need to average 70 to break even in 2019. Therefore more competitors = bigger prize fund!
Youth CD&E will receive medals or plaques. As an experiment this year for Youth A & B a 2 hour coaching session will be arranged on the London Velodrome completely free of charge as long as we have a total of 16 riders.
Senior prizes will be in the form of cash.
Prizes will be awarded to Youth A&B, Women Go Race, 4th Cats, 3rd & 4th Cats over 50, Women, 3rds over 40 and E1234J. Hopefully there will be sufficient funds for the first 20% in each group.
Youth and Junior Restrictions
The race categories are determined by year of birth:
| | | |
| --- | --- | --- |
| Category: | Year of birth: | Gear restriction: |
| | | |
| Youth A (under 16) | Born 2007/2008 | 6.93 metres |
| Youth B (under 14) | Born 2009/2010 | 6.45 metres |
| Youth C (under 12) | Born 2011/2012 | 6.05 metres |
| Youth D (under 10) | Born 2013/2014 | 5.40 metres |
| Youth E (under 8) | Born 2015 or after | 5.10 metres |
The gear restriction is the maximum distance travelled by 1 complete revolution of the pedals with the chain on the largest front chain ring and the smallest cog on the rear wheel.
The easiest way to check this is to mark out the distance on a path with a piece of chalk. Set the crank (pedal) arm vertical over the starting point and wheel the bike backwards in a straight line. The crank must return to its original position before or at the finishing point.
If it is, 'over; screw in the stop adjuster on the rear gear so that it will not change onto the smallest cog. It may also be necessary to adjust the front changer in a similar fashion.
This rule ensures that riders learn how to pedal fast without straining themselves pushing. Fast pedalling not pushing is the key to success.
Ensure your max gear is checked by an official before you sign on.
Youth B/C/D & E riders also have the following restriction:
Wheels shall have a maximum rim depth of 35 mm with a minimum of 16 spokes and a max of 40. Spokes can be round, oval or flat but must not exceed 10 mm in width.
Finally
We always need more volunteers at LCCRL. If things are a little slow and you are getting impatient you will know why. Instead of complaining, do something: find some volunteers! Volunteer expenses paid at 30p per mile.